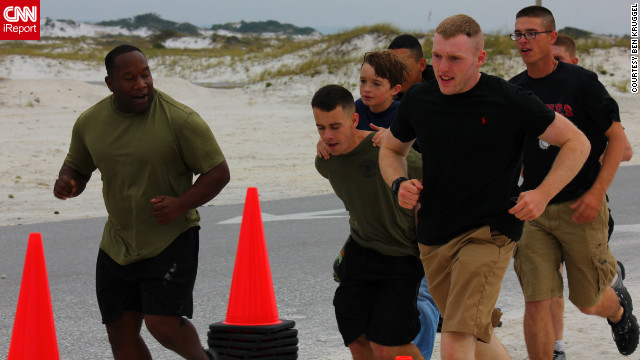 © 2012 CNN/Ben Kruggel.
I'm sure by now most of you have heard the story of young Ben Baltz, an 11-year-old boy with a prosthetic leg and a whole lotta moxie, and the bad break which turned into the Kodak moment of the week (as well as the kind of PR for the Marine Corps that you just can't buy). But in case you did just break free of a Turkish prison, or have emerged from a hermitage for a bidecadial convention of anchorites, let's go through it again:
When Ben was six years old, he lost his right tibia and fibula to cancer. However, Ben is one of life's chargers; he has two legs, one of which is adapted for sports such as soccer, basketball and children's triathlons, such as Florida's Sea Turtle Tri Kids in Pensacola, which took place last Sunday (10/7/12). Ben was "in it to win it", not just to be a token or a mascot; reporter/photgrapher Joel David, who found himself focusing more on Ben over the course of the events, said Ben "had an inspiring look of determination and I wanted to capture that emotion in a photo." (For David's photos of Ben competing,
the link is here
.)
Ben had finished the 150-yard swim, the 4-mile bike ride and was halfway through the 1-mile run when a screw in his prosthetic leg worked itself out and the leg broke. Standing nearby were Pfc. Matthew Morgan and a handful of other Marines from Marine Detachment Corry Station. Corry Station is a training command; Morgan was one of 22 students who had been brought in to help at the event. Morgan ran over to Ben, put the boy on his back, and ran him up to the finish line, flanked by five other Marines.
Ben's mother, Kim Baltz, told CNN iReport, "It was only a mile, I knew he was tired, I was like, 'Where is he, where is he, where is he' ... All of a sudden the announcer just said, 'Ladies and gentlemen, I want you to turn around and look at what's happening on the course.' ... Everybody was crying. It was just very touching that the Marines were there." My mother, on hearing the story, said that kids like Ben happen only when parents like Ms. Baltz are supportive and encouraging. Exactly; a lot of parents, fearing for children in Ben's situation, end up saying "You can't do that" either explicitly or implicitly.
Said Capt. Frank Anderson, Pfc. Morgan's CO, "It's great to see what Marines do — not leave anybody behind — is exemplified in our youngest members of our institution. ... We're pumped." Of course; money can't buy that kind of PR because it comes straight from the heart. It goes without saying that Ben's predicament touched his heart ... but his heart was there to be touched, not buried under the false sympathy that badly disguises the superiority some people feel over the disabled. Moreover, Morgan's action was that of a natural leader — take charge and get it done. I predict that, whatever direction Morgan's career goes, it'll go far, and that the Corps will be looking at him for many bright possibilities. Here's to you, Marine:
SEMPER FI!
"Truly, I say to you, as you did it to one of the least of these my brethren, you did it to me."
— Matthew 25:40