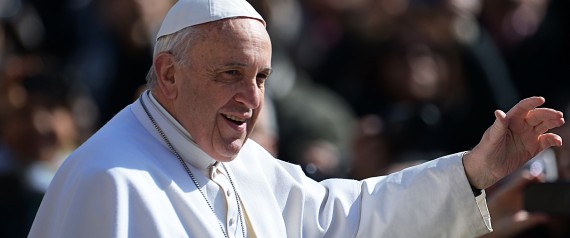 © 2015 Vincenzo Pinto/AFP/Getty Images.
Pope Francis Will Break Bread With Gay, Transgender Inmates During Prison Visit
(RNS) When Pope Francis pays a visit to Naples this Saturday (March 21) he will have lunch with some 90 inmates at a local prison, a contingent that will reportedly include 10 from a section reserved for gay and transgendered prisoners, and those infected with the virus that causes AIDS.
The stopover at the Giuseppe Salvia Detention Center in Poggioreale, near Naples, was originally not scheduled to include lunch, according to a report from Tv2000, an Italian television network operated by the country's Catholic bishops.
But the pope insisted on the meal, which will be prepared by the prisoners, some of whom will come from two other detention centers. The 90 were chosen by lottery from among 1,900 inmates, according to the Vatican Insider website.
"And the Pharisees and their scribes murmured against his disciples, saying, 'Why do you eat and drink with tax collectors and sinners?' And Jesus answered them, 'Those who are well have no need of a physician, but those who are sick; I have not come to call the righteous, but sinners to repentance.'" (Luke 5:30-32 RSV)
That is all.